Guntersville Bass Guides 256-698-6593
Frog fishing was on point this week! With more blow ups then one could keep count and a flurry of catching as the sun is going down, it was a very interesting week.
This report might just be boring since it was all about top water froggin.. Some days you had to hop the frog fast across the mat and on the same day they wanted that cadence they also would like the hop 3 times and let sit for 5 seconds and hop 3 more times or the fluke of reeling in to make another cast and one explodes on it.
Did notice that on Sunday the mats that had the 2-3 lb bass in it had a lot larger bass blowing up on the frog. We had over a dozen chances on to land a dandy but they just kept pulling off … thats just frog fishing some days they choke it and some days its just in the lip.
Water Temp did come down some by the weekend 72.8
I won't bore you with anymore writing
Please excuse the dark pics .. remember we had a few feeding frenzies as the sun was going down..
Bass Fishing Trips Click Here
Crappie Fishing Trips Click Here
Brandon was dialed in for the upcoming frog tournament
Gut is still sore from fishing with these characters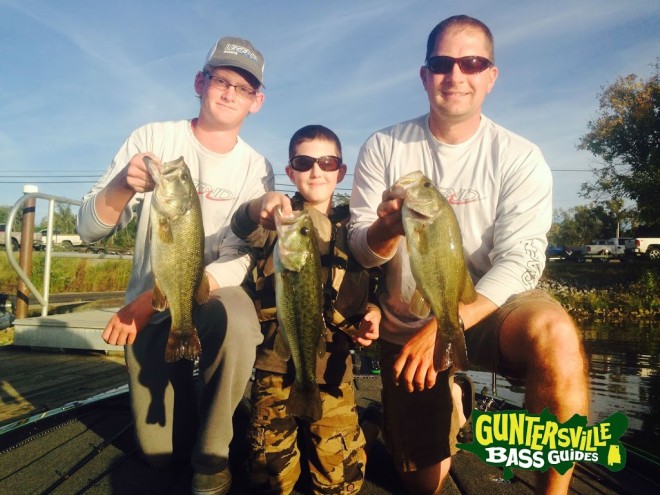 Jersey Boys. Picked up their new Legend V20 From Fredricks Outdoors and did a little fishing
Davey, Mike & Brandon 2 boats 4 hours then Davey had to head back to the HILLS
I look for the fishing to just explode in the coming weeks …. Are you ready?
I have new Hoodies and Long Sleeve Shirts in stock. Purchase any one of the 3 and get entered in to a drawing for a free fishing trip with me. CLICK HERE
Capt. Jim
www.guntersvillebassguides.com
eMAIL
256-698-6593