Guntersville Bass Guides 256-698-6593
Where to start:
Monday & Tuesday was down right nasty out high winds rain cold and 2 rescheduled trips hey it happens got out rest of the week and WOW was the fishing awesome….. but still not what is to come.. Had some repeat clients and some new ones.. We had outstanding days!
Fished the Yamamoto Tournament Saturday on Lake Guntersville. My Partner for the tournament was Jeff Cook of the Music Group Alabama. We Practiced some on Thursday to get to know each other … yea funny story..
A Few Months Back I was at Bone Yard BBQ grabbing dinner and these guys dressed the part of fishermen so I asked how they did and to find out they really didnt fish but when two of the three got up to leave the 3rd stayed back and talked with me about fishing and told me he was named by the State of Alabama The Ambassador of the sport and followed it up with we should go fishing soon, so I told him my number was on the napkin holder and to give me a call.. And that was the end of it he walked out the door, well you would of thought I had food all over my face the whole restaurant was looking at me , and finally a lady said "do you know who that was?" of course I had no CLUE so I told her nope just somebody wanting to go fishing……. she said that was Jeff Cook and it really didnt sink in and she could tell so she followed it up with from the Group Alabama then it started to click ..
Well he did call.. And when we went the 1st time together I had to apologize for not knowing he was and he quickly said " thats ok I still don't know who you are" HA
Saturday in the Yamamoto tournament the day started off just right with that big bass of 6.31 lbs and that was the only big bite we had we had 3 more and lost one at the boat think we ended up 10th over all or 11th.
Jeff Cook & Me on Stage at Yamamoto Tournament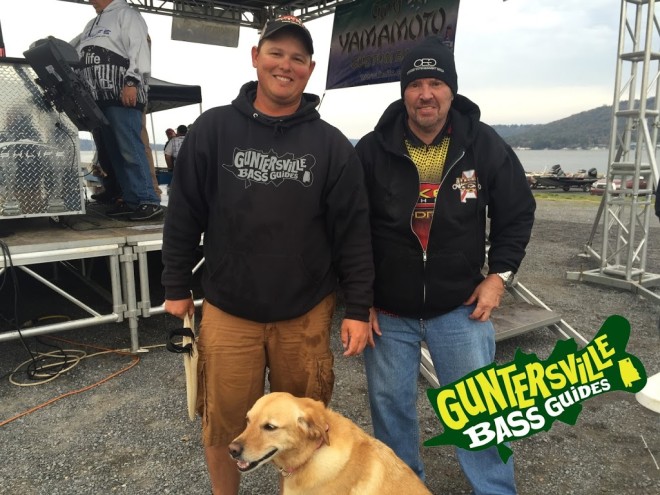 Belle, Jeff, Myself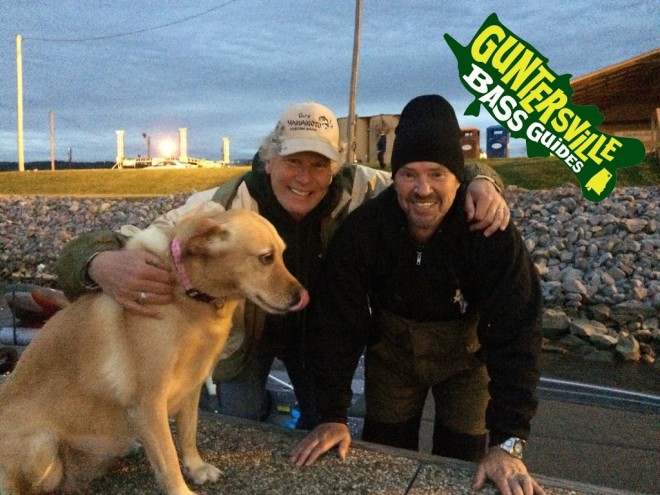 Belle, Gary, Jeff
There is a pic floating around with these two and Roland Martin when I get it, i'll put it up here.
As for the fishing the bass they are still not staying put long and are on the go, not much of any schooling going on or any at all, the rain is coming the lake will be unstable for the week might mud up some . could make the bite better or might make it tuff.. but it will still be Guntersville and the switch could get flipped any day now..
The Frog Bite is Picking Back Up.. Like I thought it would.
The SquareBill is still happing
Top Water stepped out for a little bit should be back soon
Flipping was a big player this week (big uns)
Weightless worm in the grass put numbers in the boat.
Water temp is holding mid 60s
think that covers it all
Booking For February 2016 and March 2016 Call me 256-698-6593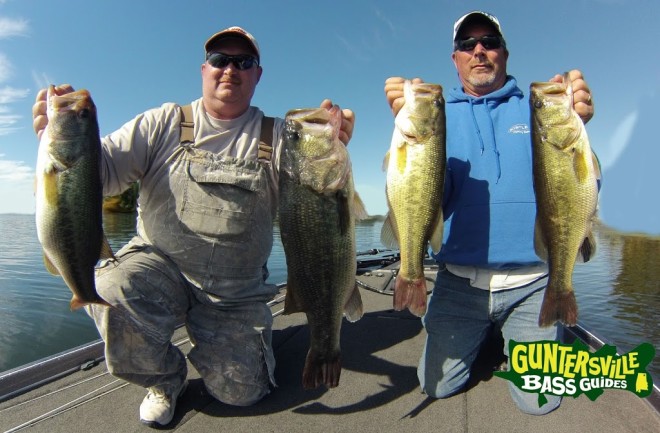 Thanks for a great week everybody!
Capt. Jim
www.guntersvillebassguides.com
256-698-6593