Its Been A Great Two Weeks Here On Lake Guntersville. September has been known as one of the toughest months in the southeast to catch a fish, I can remember when I would avoid the lake during September until 4 years ago I made it my mission to figure them out, them long hot days of practicing finally paid off this past weekend during the Super Tournament.
Day 1 was a struggle and it was hard to not think about the past years during the same tournament ( the past is figuring out how to catch them during the week then Saturday they vanish ) around noon I finished my limit ( 16-09lbs ) 5th place
Day 2 Started off great had a limit in the 1st 45 mins had a limit then was able to cull up through out the day to get to 21-03lbs, kept telling myself I needed 24lbs because the leader had 20lbs on day one and I just knew he would catch the same weight again on day 2, he is just that consistent so to see that he stumbled at weigh in I can tell you that I don't remember a whole lot after I won other then my phone started blowing up. Man the amount of texts phone calls Facebook Instagram messages …. thank each and everyone of you that took the time to congratulate me.
My Buddy Ethan Wheeler just about won the co angler side ( if he would've caught 5 on day one he would've sealed it up ) but ended up in 2nd and he won the Co Angler Of The Year .. Congratulations Dude!!!
The guide trips have been going really will and now that the heat is cooling down a little the fishing will continue to improve as we move into fall . Water temps have been 78-84 most days and the water is clearing all over the lake. Capt. Jeff has been on em really good catching numbers and some really nice ones, check out what he's put our clients on this past week.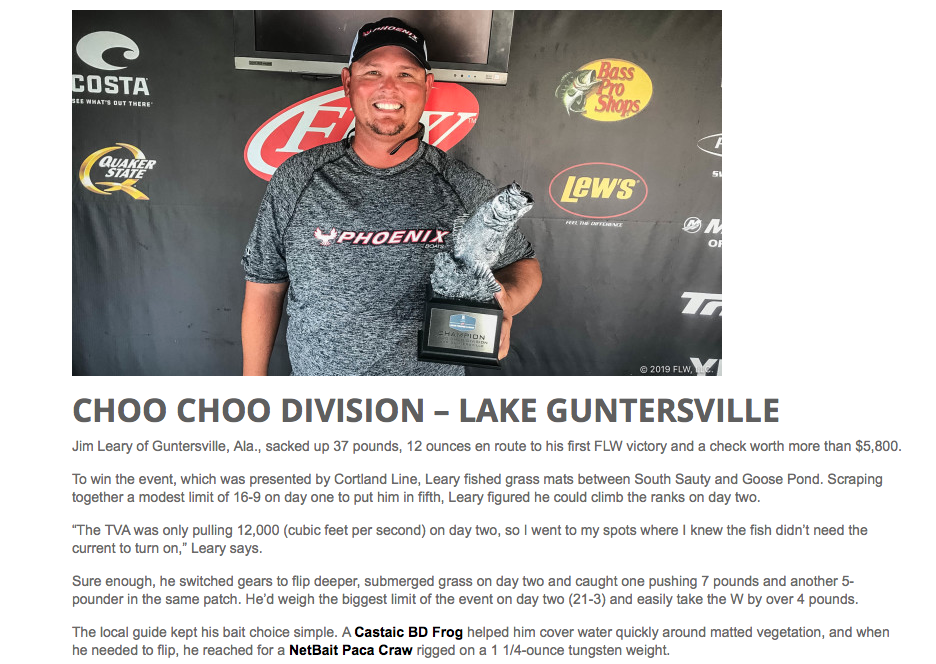 Here Are Some Open Dates
September : 25,26,
October: 11,13,16,18,19,22,26,30,31
Those are Capt. Jims Openings.. we have other dates open with Capt. Jeff and Capt. Shane
Give Us A Call 256-698-6593 or visit us at GVILLE BASS GUIDES
Capt. Jim
www.guntersvillebassguides.com
256-698-6593