WOW where do I begin?
2018 Was a great year for fishing. We seen more double digit Bass then ever before.. We had many trips where there was more then 40 bass caught and the spring time trips seen many 3-4 pounders that was in them 40+ bass days. How about the 5-7 pounders there sure wasn't a shortage for them either, heck in September and October we seen an abundance of 1-2 pounders and they was in really big schools, and that looks like we have a great looking future here at Lake Guntersville.. I think we are a year away from some really big days like we seen in 2013 and 2014.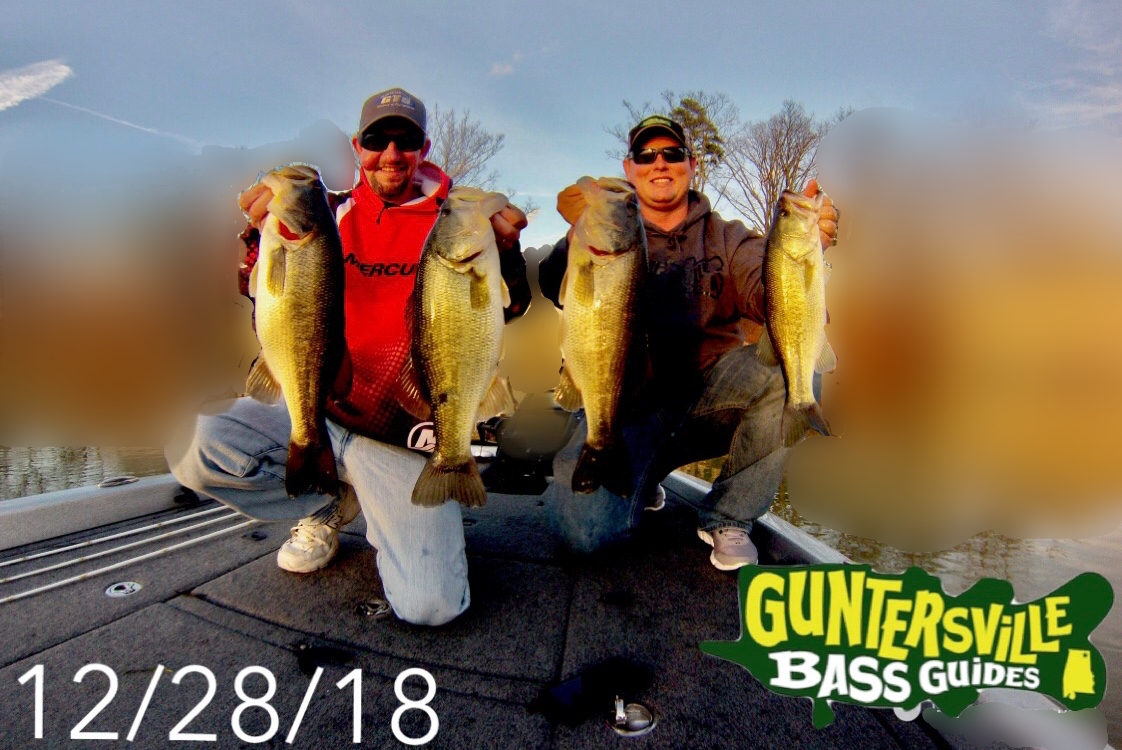 GBG is considered LUCKY.
This year we had Capt. Shane on board and with his skills and knowledge he guided many clients to great days on the water, from a double digit bass to almost winning an hour in the big bass tournament. Its been a blessed year for sure. We are proud to say he will be with us again for 2019..
December Fishing…. Well its been good real good.. I Have not gone everyday but I've gone every week a least once..  We've had some rain and the river is up and getting dingy the water temps have climbed to 53 from last weeks 46 degrees. Lot of floating grass, logs, cat tails, and trash so you need to be careful you could lose a lower unit or something even worse.. So no need to be in a big hurry out there.. The grass is pretty much ripped up and swept down current so new growth can start in a few weeks.
Heres some recent guide trips and buddy fishing trips…
2019 Bookings click here
or
Call 256-698-6593
Capt. Jim
www.guntersvillebassguides.com
256-698-6593