Guntersville Bass Guides 256-698-6593
The next two weeks will be a frog fishermen's paradise here on Lake Guntersville, with the frog bite ramping up to be in full swing the question is……. Are you ready?
This past week has been nothing but fun. I only had one trip and the reason I had it was because they wanted to use a gift certificate that they won at the Somewhere On The Lake Wounded Warrior auction, other then that I practiced all week for the BFL.
Lets start with the practice I'll make it short, by Thursday morning I was able to call my shot if was gonna get a bite or not I was dialed in and have not felt that good about a tournament in a very long time and what really did it was, I checked an area that I hadn't touched since before I left for Ohio and about a dozen flips later one grabbed my B Bug and she was a dandy, wouldn't let go of the bait ( I flipped without a hook all week ) then I eased over to another spot where I last had a bite and got right on the waypoint and flipped in there and it no longer hit the bottom one smashed it and I didn't even get to lift up on her, she started swimming up and brought about 8 of her fat friends with her all trying to take the bait from her. Well after seeing that I knew there was a chance for a big sack. Fast forward…….. they moved….. Couldn't believe it they just up and left a 3 week home just like that. I was so keyed in on flipping I didn't give the frog fishing a true chance I just didn't see the frog catching the right fish to compete against those guys so needless to say I stunk up the lake Saturday.
Not taking a bad day of fishing to lightly I got up Sunday Morning 1st thing and headed to find my fat girls. Of course I tried what had been working and to no surprise no one was home still, so frustrated I was heading back to the ramp when I saw a mat that reminded me of one I drove by the day before and I had to go check it out, and that kept me on the lake till dark.. Not only did I have a crazy frog fishing day with over 20 fish I relocated my fat girls at the end of the day and they wasn't but 40 yds from the last place I shook one off.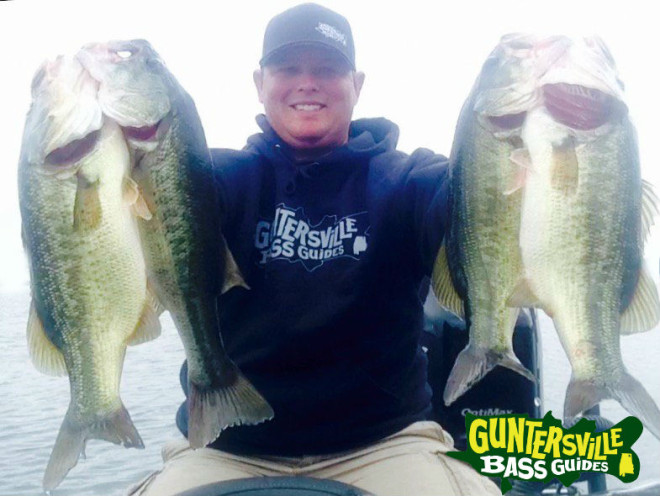 Where to look for your frog tournaments.
* Up River Lots of the right kind of grass mats ( along the river channel is the best)
Now my clients never frogged fish ever and they had a blast doing it and with many missed opportunities they did manage to stick one and get em in the boat. When you get a blow up wait at-least one second before you set the hook, and set the hook hard you need to drive them hooks in to the roof of the bass's mouth. The cadence they wanted has been a slow popping like pop pop pop…….pop pause and it seemed when they wanted it they did not miss the frog as pliers was needed to extract the hook on most cases.

They want the frog worked slow. Look there has been a lot of pressure on the lake and the bass are wising up. Take your time and work a mat from every angle you can, it will pay off when you get the cadence and the angle.
Good Luck to all the anglers.
Capt. Jim
256-698-6593
www.guntersvillebassguides.com
email me