Guntersville's September Recap. Fishing Remained Good Till The End Of Sept. Then it did what it normally does in the first couple of weeks. It came to a screeching stop, the fish just decided that they was gonna start swimming and be tough to get to bite. And it happen to fall on the Harvest Moon and The Bassmaster Elite Series Tournament.
We had some days where we had some topwater action for a few hours with some really awesome explosions and some frog action and a lot of moving baits and some bottom baits, felt like all n all September was pretty good to us.
Looking forward in to October we have had some cold fronts and that has cooled the water off in to the low to mid 70s this should make the fall bite ramp up for some frogging and topwater action.
Speaking Of Topwater Capt. Jim fished a FLW BFL Super Tournament on Chicamauga and during practice he caught his new personal best Largemouth Bass on a topwater, the bass weighed 12lbs 5oz she was 26 inches long with a 21 inch girth. Pics and story below. As for the BFL he finished in 10th.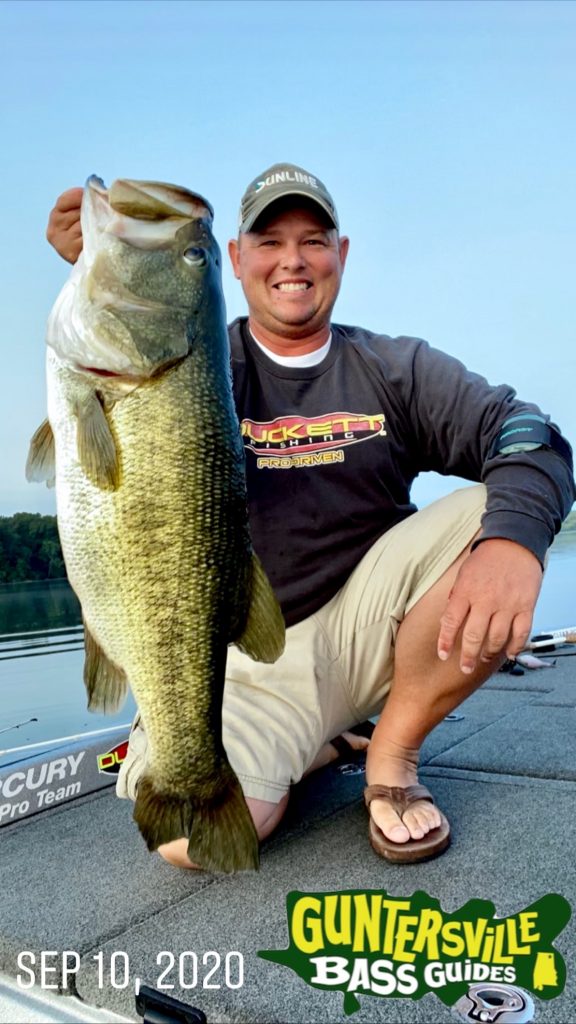 It was a strange few days for Guntersville Lake fishing guide Jim Leary when he fished the BFL Super Tournament on Chickamauga in Tennessee last week.
In practice, he caught a new "PB" or personal best of 12 pounds 5 ounces. It was the 4th fish of his career to weigh 10 pounds or better. He caught it on a Spook, a topwater lure, of all things. And September is not typically a "big fish" month. The big ones are usually caught in February or March.
Despite such an unbelievable bass in practice, the tournament was an absolute grind. Jim caught about 10 pounds each day, good enough to finish 10th in the 84-boat tournament. It was his second top 10 in recent weeks. He finished 9th in the recent BFL Super Tournament on Guntersville.
"If I had caught the big fish in the tournament, I would've won it," Jim said.
September used to be the worst month of the year for Jim. But he's really worked it at for several years and he's gotten pretty good at fishing this in-between month between late summer and early fall.
"The last 4 years, I've fished BFL championships in September or early October," he said.
He arrived at Chickamauga on Wednesday and his first day of practice did not go well.
"I had a bad day," he said. "I ended up catching 4 fish all day. That wasn't good for a whole day."
He said he "switched up everything" the following day.
"I went to a place where I had not done well in the past that kind of resembled some places I like on Guntersville," Jim said. "There's no eel grass up there, so I decided to throw a topwater. It was just a little high spot and I started throwing the Spook."
He had just about finished a retrieve – the lure was only 8 or 10 feet from the boat – when the big one hit.
"It shocked me," Jim said.
It was not an explosive hit, but rather just a "slurp," he said. He fishes his topwaters on heavy braid, so there wasn't much danger the fish was going to break his line. He did back off the drag so the fish could run early in the battle.
"The fish dove and it wallowed," Jim said. "I thought, 'This might be a decent fish.'"
Then he saw it and knew it was a pretty good one. The fish jumped out of the water and he could see the back hook was in the lower lip and the front hook was in the gill plate.
"It started bulldogging really hard," Jim said.
He said it wallowed again, then ran towards the back motor. All this was happening in an amount of time shorter than it takes to even describe it.
"It bulldogged hard again, then it kind of gave up," Jim said.
He didn't have a net out, so he got the bass up to the side of the boat and just kind of bear hugged it and got it in.
"My first thought was 'This fish is huge,'" Jim said.
He keeps 2 sets of scales in his boat and he weighed it multiple times on both. The first scale read 12-12, then 12-8. The other scale gave him 12-5, 12-5 and 12-6. To Jim's credit, he went with the low weight rather than adding a few extra ounces to the incredible catch.
"The next thing I thought was I had to get measurements," he said. "This was a 12-pounder. I might want to have replica made."
The fish taped an incredible 26 inches in length and 21 inches in girth.
Jim was by himself, so he had to set his phone on his dash and his cooler to try to get photos. He wasn't crazy about the pictures, but they turned out pretty good all things considered.
After catching the big one, he took the hooks off his lure and fished some more just to see if he could get any more blow-ups. Tournament anglers do that sometimes, not wanting to actually catch the fish, but rather to save them for the tournament. He had another 7-8 pounder blow up on his hookless Spook and several smaller ones.
He was thinking that topwater pattern might work out for the tournament, but it really didn't.
"I had blow-ups the rest of the day," he said. In hindsight, he wishes he'd have caught them.
"I might've had 50 pounds," he said.
Everything sort of changed after that magical day.
"It was setting up nice," Jim said. "I went back to that same spot Saturday morning (the first morning of the tournament) and they were schooling."
But he said he couldn't keep up with them and they weren't biting. An east wind blew up. Chickamauga has Florida-strain bass. Jim thinks they are a little more weather-fickle than the native bass.
"The first 2, I caught on a fluke," Jim said. "I didn't want to throw it, but my co-angler was getting some bites on it. I lost a fish on the Spook. It snowballed from there."
He ended up with 10-8 the first day, 10-7 the second. He caught them on a variety of different baits and had 14 rods with different baits on the deck at one time. On the last day, he caught one punching mats with only minutes left in the tournament.
The second day was even tougher than the first, but he managed to get a limit of 5 fish again that day.
It was still a great tournament for Jim. The big fish made it so.
"To hold that fish, it just didn't feel right," he said. "It was so heavy and so broad. It was so weird, to catch it on a spook of all things."
As he fought it, he just wanted to get it in hand. The thought even occurred to him as he landed it, "I'll take a hook in the hand if I have to."
So how heavy might that fish have been had he landed it in February or March?
"We've talked about that. They say the eggs aren't that heavy, maybe a pound or a pound and a half," Jim said. "But you know how they feed up in hopes of spawning. I think it could've gone 14 if it had been early in the year."
Leary has his own guide service, Guntersville Bass Guides.
Now he's thinking about starting to guide a little on Chickamauga. Story was in The Advertiser Gleam Written By Anthony Campbell
Hopefully we can get another update out in the next week or so, our trip today produced the most bass that we have boated in the past week so hopefully we are through the brutal fall transition.
For Booking Info You Can Click HERE Or Call 256-698-6593 October Has A Select Days Open And November Has Plenty As Of Today
Capt. Jim