Guntersville Bass Guides Fishing Report 256-698-6593
Like the title says the BIG G treated me to a 10 pound largemouth! It was a catch of a lifetime and i'll remember it like yesterday for years to come.
Now I haven't done a report in a couple of weeks for a couple of reasons I do apologize so let me get you all up to date.. And my double digit wasn't the only Donkey that came over the side of my boat since my last post..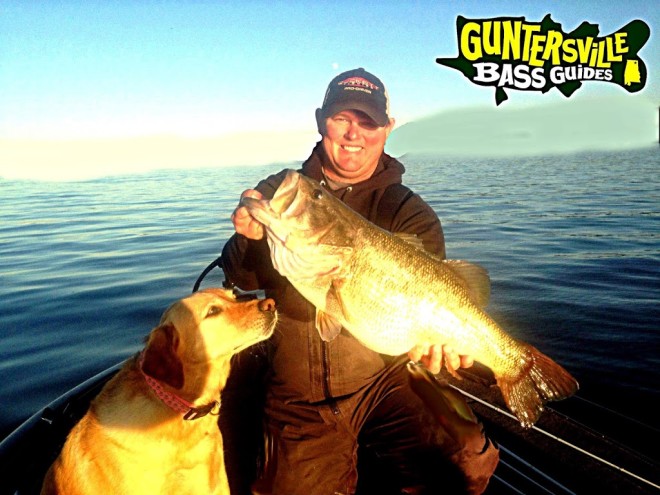 My Lake Guntersville Personal Best.
Here We Go: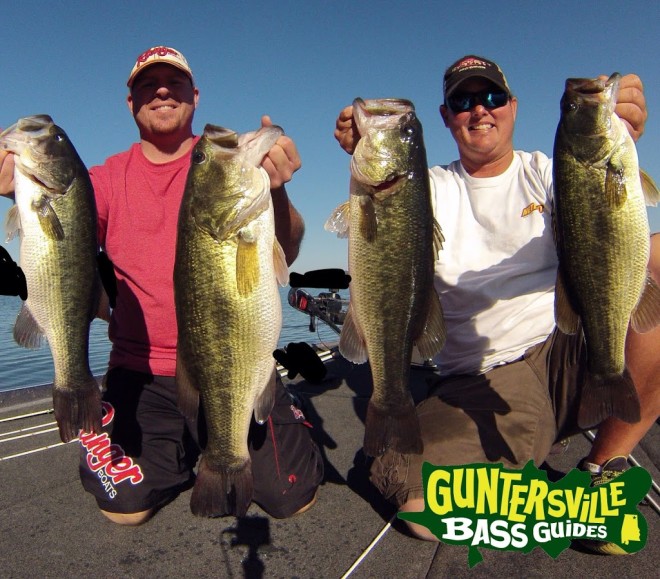 Y'all might recognize this guy, we got out one afternoon and caught em pretty fast off a couple of spots and then it was over. Cranking a BD 1.5 square bill around grass got the job done on this day.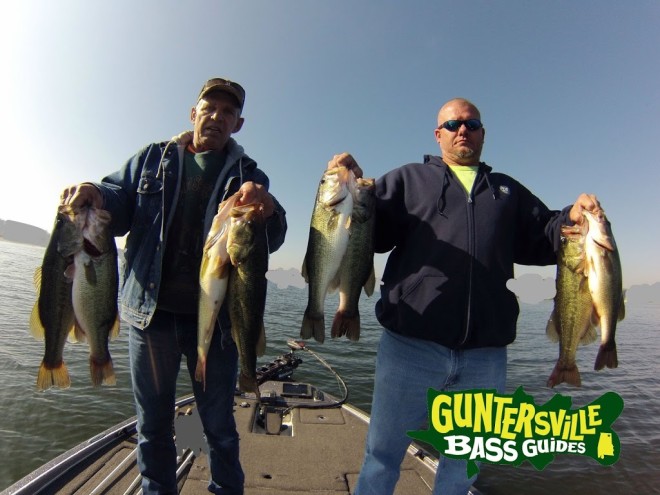 Nothing really large and in charge this day but a lot of bass lot of laughs and happy customers.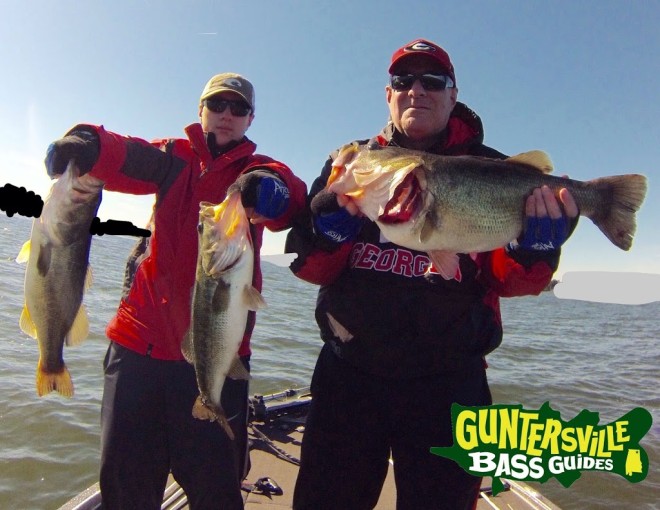 Cold!! Chilly north wind fired up this DONKEY couldn't believe he caught this bass on spinning tackle!! This giant Guntersville Bass is a testament that any cast can be a monster bass!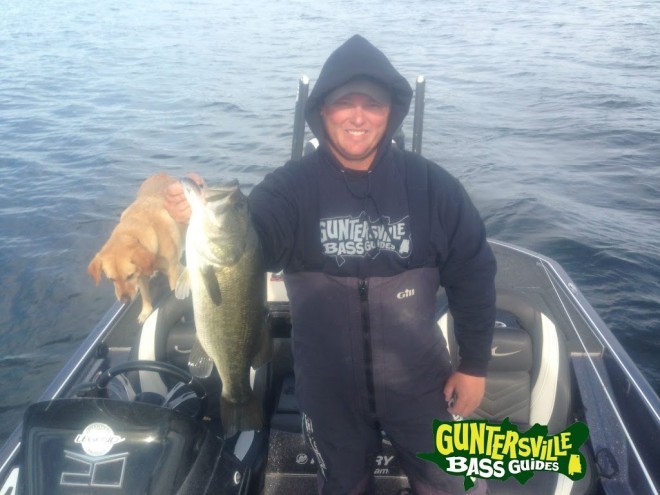 This was my last Bass in my Legend V20. Left right after I let her go. I had to get my new boat.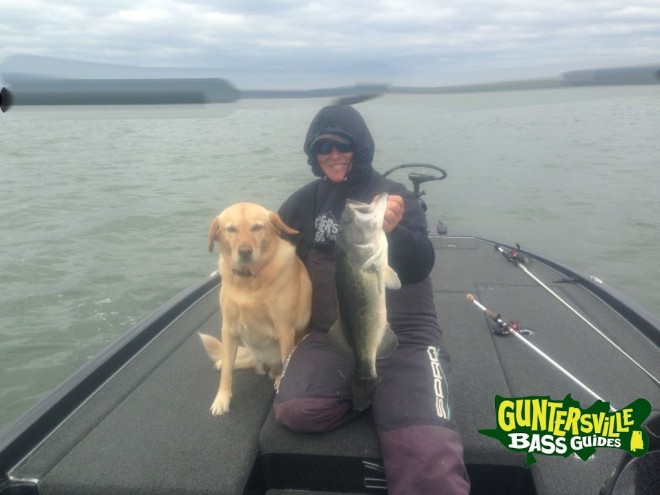 Stopped and made a few cast during the break in period of my new Legend V21 and caught one.. This boat might catch em a little better then the old one! We Rode Dam to Dam 1st time ever doing that and its long but well worth it. Oh and if you thought my V20 was BIG.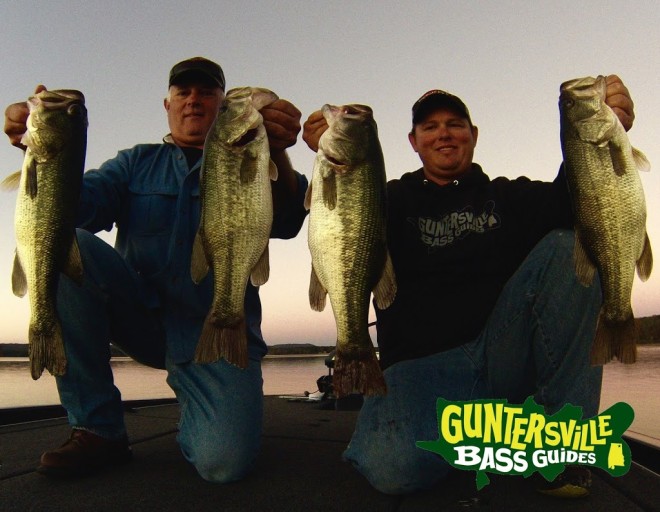 Mike Davis from Ohio and myself putting some fishing time in on the new boat.. These bass ate a 4×4 swim jig with a little spanky as trailer.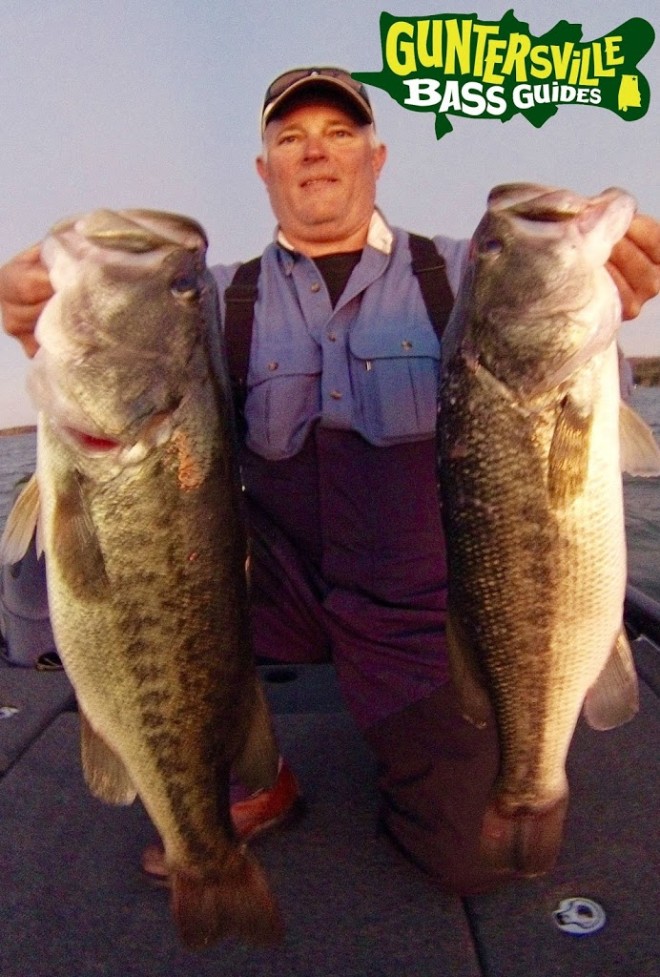 Could not let Mike go home without some Big G Big Uns.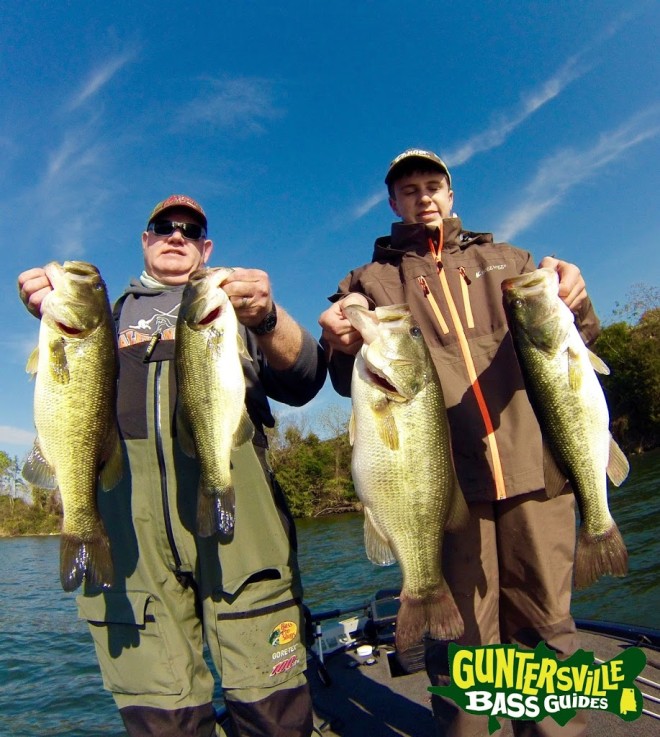 Im thinking the boat might have a horseshoe somewhere in it. These two did not give the bass any slack, if the weather and lake levels ever get steady the lake would just explode with awesome
fishing but until then we will just grind it out.
Heres a video of the release of the Big G Donkey. I really didnt think I had a bass on the end of my line, it just did not act like a bass with it pulling drag and pretty much acting like a Stripe a big one at that, I put some effort in to the fight but the whole time I was telling myself it wasn't a bass, then it swam by the boat and IT GOT REAL pretty fast lol up to this point I was horsing it pulling hard and now I am babying it feeding it line and walking it around the boat like it was million bucks barley hooked, I did land her by lipping her and pulling her in to the boat then I was able to take a deep breath and admire this fish. I wanted to hug it! Well I did and even kissed her! Thats what the scale read at the end of the day Best 5.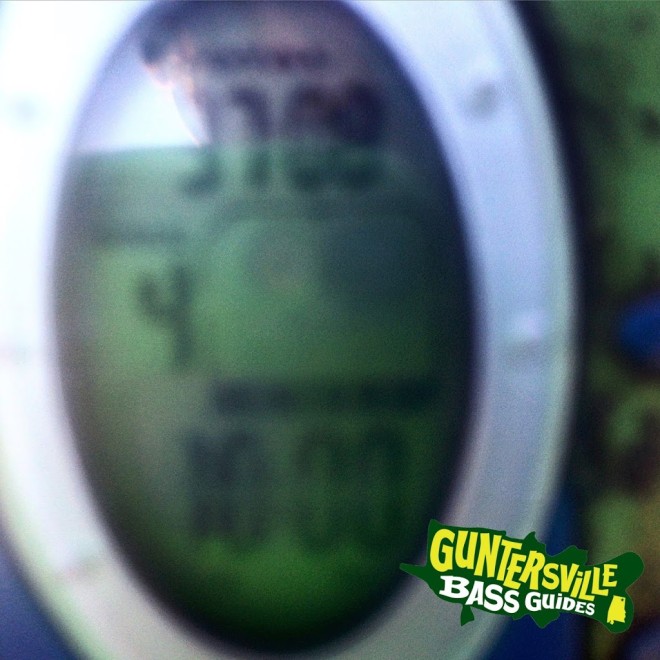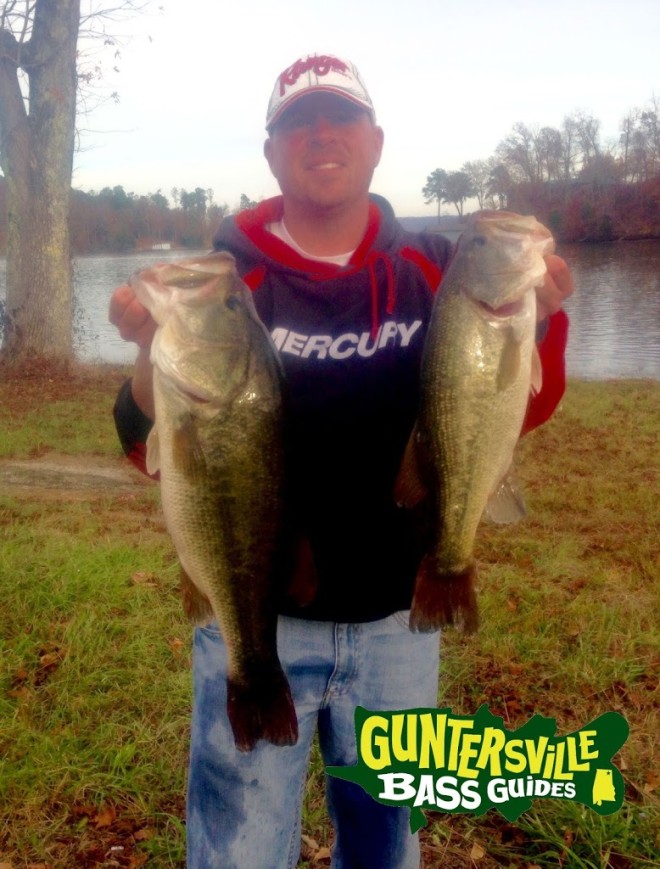 Eric and I took 3rd in the 3rd annual Black Friday Tournament! One thing I can say is that we was very constant this year .. 3 tournaments three 3rd Place finishes.. Looking forward to next year!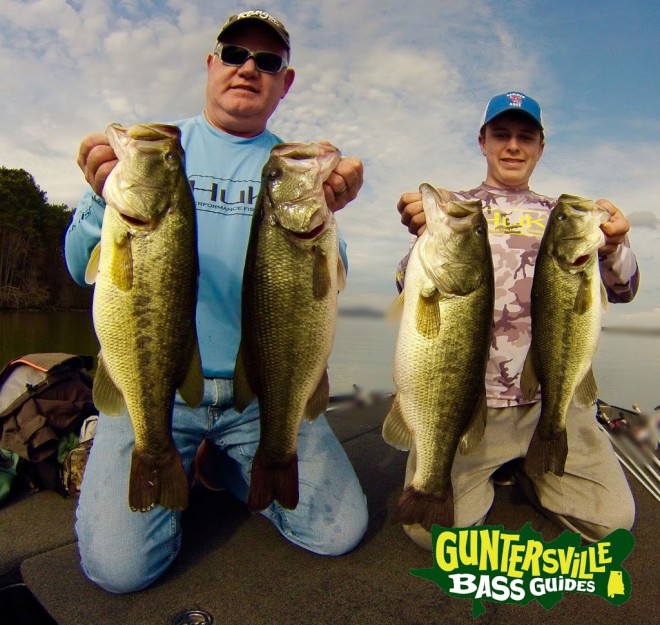 Round 2 for these guys its like they didnt get enough the 1st go around. And once again they hammered them!
The lake is honestly fishing a little screwy this year the big ones never really grouped up and we never seen any schooling top water feeding happen, our fall is acting like our spring, it wants to get cold but it keeps warming up, and if you remember the spring it wanted to get warm but it stayed cold ( real cold). The grass is still growing in most parts of the lake and the bait is on the bridges and in the grass so take your pick where you want to fish, bridges are easy targets if you can fish one at the right time you will load the boat and fishing will seem so easy at that moment in time or you can fish miles of grass and find a hungry school of bass that will thump your lures so hard it will wake you up, but when you go back to catch them another day they will be gone. Not real sure why it is the way it is but I know one thing for sure and that is that Lake Guntersville is a special place!
My 2015 season is wrapping up and planning for 2016 and accepting your reservations now.
I have gift certificates available for the prefect Christmas gift!
Speaking of Christmas Gifts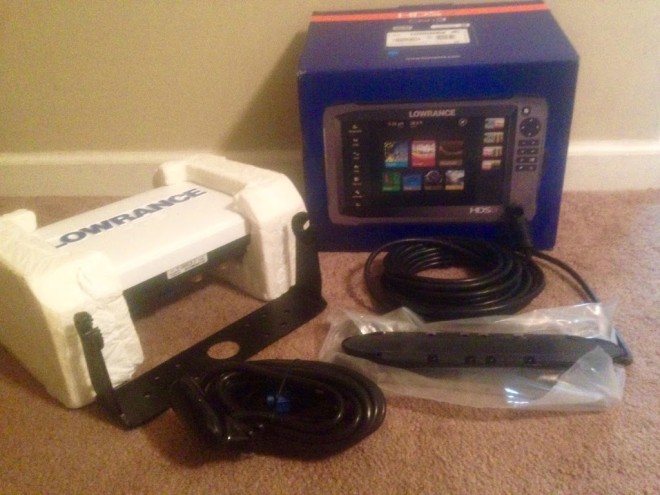 I have 1 Lowrance HDS 9 Gen 3 for sale new in box never used More Details Here
Ive been posting to Instagram the days catch go follow @guntersvillebassguides and see them earlier.
Lake Level is at 593..34 (spilling till further notice)
Water Temp 60
5-7 feet visibility
Capt. Jim Leary
256-698-6593
www.guntersvillebassguides.com
EMAIL ME