After the high dingy water we get some cold weather and who do we blame??? FLW TOUR you just can not have a big tournament with out a cold front , but hey it is what it is.
So what has happen in this past week the fish have gotten in the best current breaks the lake has to offer …. BRIDGES  but take a number its no secret here on Guntersville bridges get hot when the current starts to roll here, all the corners of them are magnets for bass and they are easy to catch, a 6-8 foot diving crank bait or one that dives deeper just depending on how they are set up. Now the grass fish are still in the grass and will continue to be there, but they seem to not eat as well with drastic change in the water and what I mean is the in 12 hours the lake came up 3 feet and in 3 days it came back down then it came up a foot and back down to where it was a week ago, add in some color to the water and you have todays conditions. So as I am writing this I took a min to look on Facebook and came across a midday update from David Dudley and at 12:08 he didnt have a bite.. It just goes to show that Guntersville can be tough at times but this place is still a amazing place its just sometimes not what you expect.
Here is what I think will win over 4 days
17lbs a day will make the top 10
19lbs a day will win.
not saying it can't be more but I think with what I've seen here in the last two weeks . Thats a lot of boats and a lot of skilled anglers and they will all find areas that someone else has and there will be some sharing of the fishing going on, now with the warming trend happening this week I look for a lot of 15lb bags.
I had one trip this pass week and it was Saturday you know the really cold windy day.. We toughed it out and caught a good number of bass but just no really big ones but we had a blast.. Well when you look at the pic you might recognize the one guy he has become one of my repeat clients / fishing buddy..  and I must say he's come along way from our 1st trip together where he had used a spinning rod..
Water Temp 50
Dingy water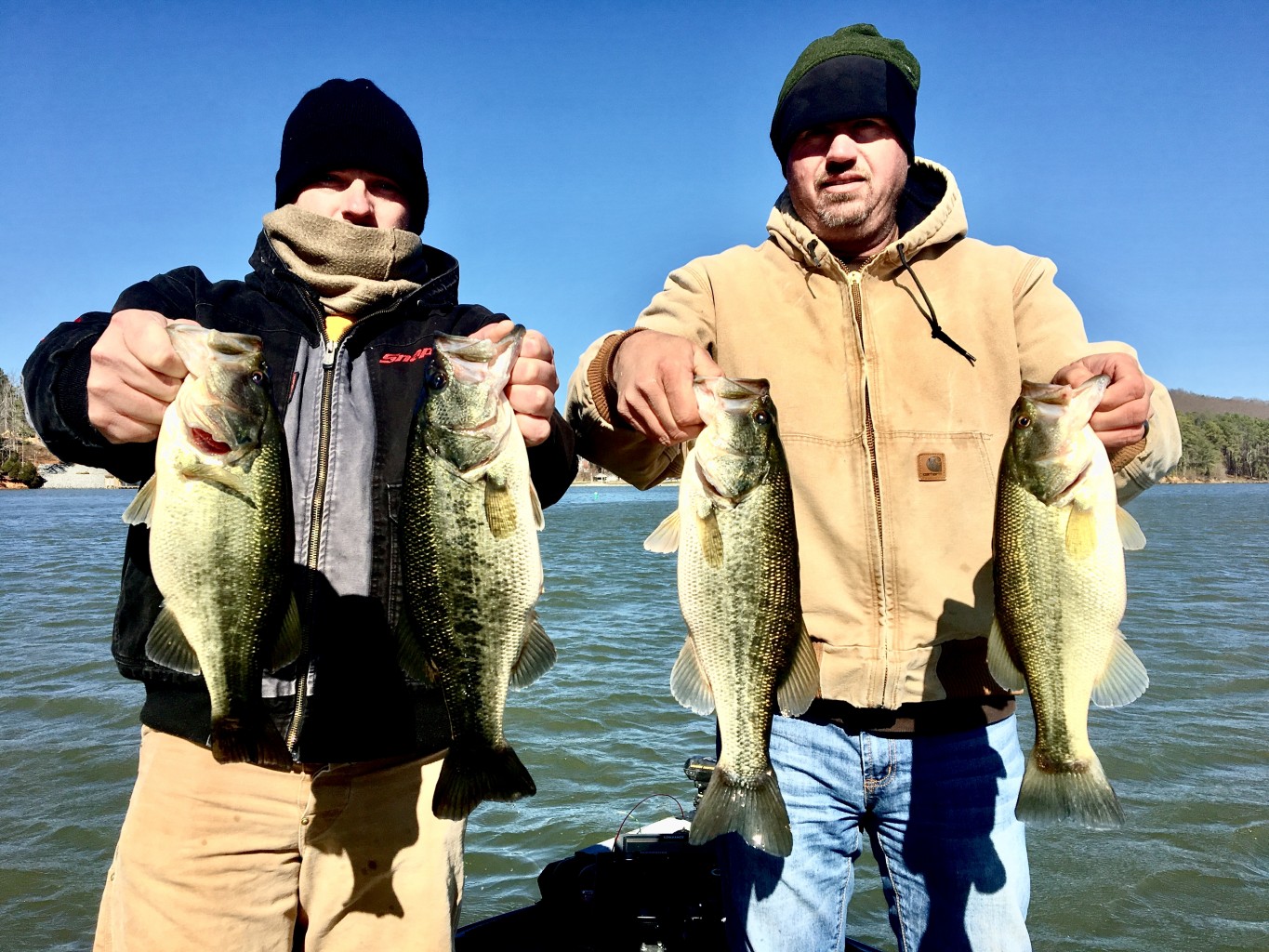 Im doing a raffle style give away for a 4 hour fishing trip. Each entry is $10.00 and I will be doing a Facebook Live Drawing on Feb. 20 @ 7pm to announce the winner Click This Link ENTRY HERE for your chance to win.
Capt. Jim
www.guntersvillebassguides.com
256-698-6593