Its been a heck of a June here on the Big G, with the hot days and plenty of bass! Is this one of the best Junes in the past 5 or 6 years ?? Some might say yes some may say no but one thing is for sure the bass have kept us on our toes… What I mean by that is they have been changing up almost on a daily basis with one day catching  them in 20+ feet of water to 6 feet of water I cant explain why that is but one thing is for sure is they are always biting somewhere so if your fishing where you caught them last weekend without a bite you might want to do a 180 and go do something else and keep an open mind. Something else to keep in mind is the timing we have noticed the last two weeks timing has been a key but it can get your hopes up as well so dont put all your eggs in to one basket (or spot). So what I am talking about is if Spot A produced for you yesterday at daybreak and spot B produced at noon yesterday and when you go back to spot A with out a bite then hurry over to spot B and give it a try or spot C … you get what I am say if they are in the mood to eat then its going to happen pretty fast so dont get caught up with they was chewing here yesterday syndrome…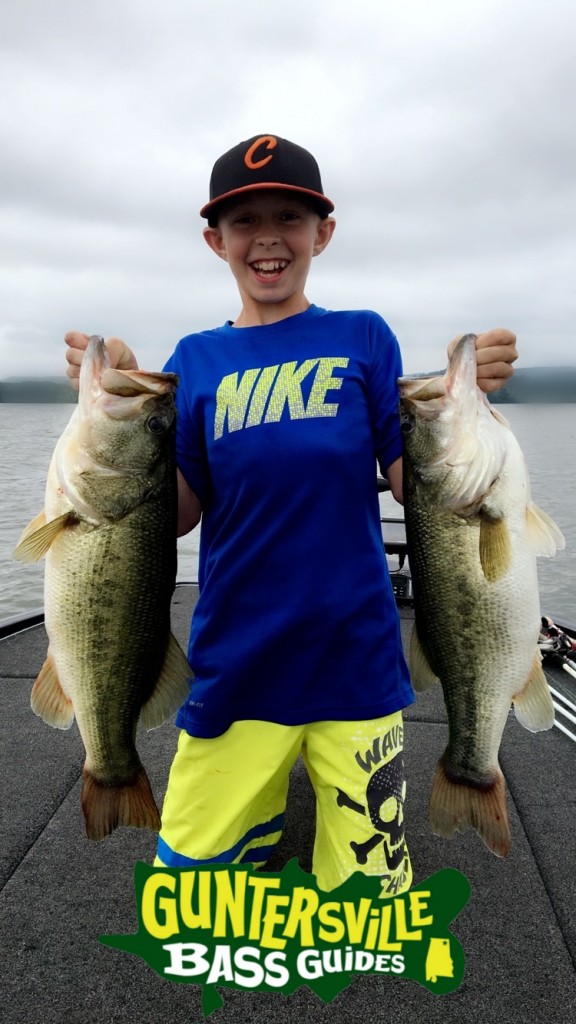 Now to what everyone wants to know..
Lures…
Lets start with offshore
4×4 Kevin Hawk Football Jig in Hawks Prey with NetBait Baby Paca Craw Green Pumpkin
4×4 3/4oz Football Shaky Head with NetBait Super T MAC Green Pumpkin and Watermelon Candy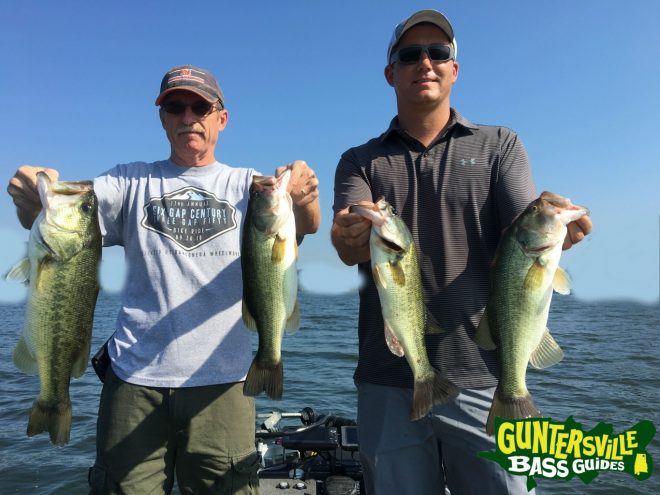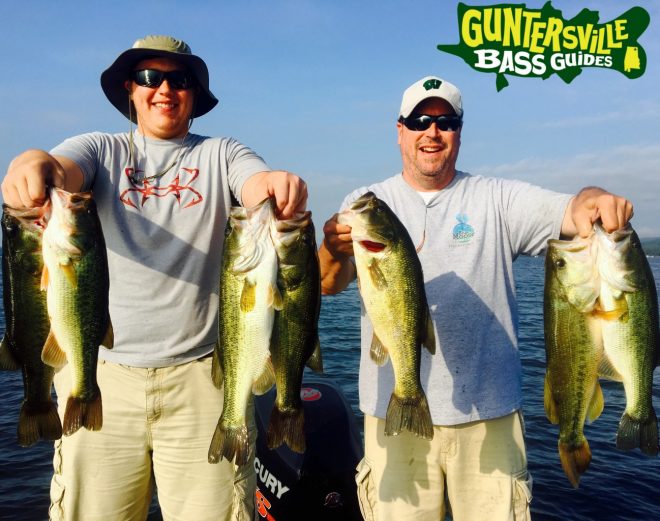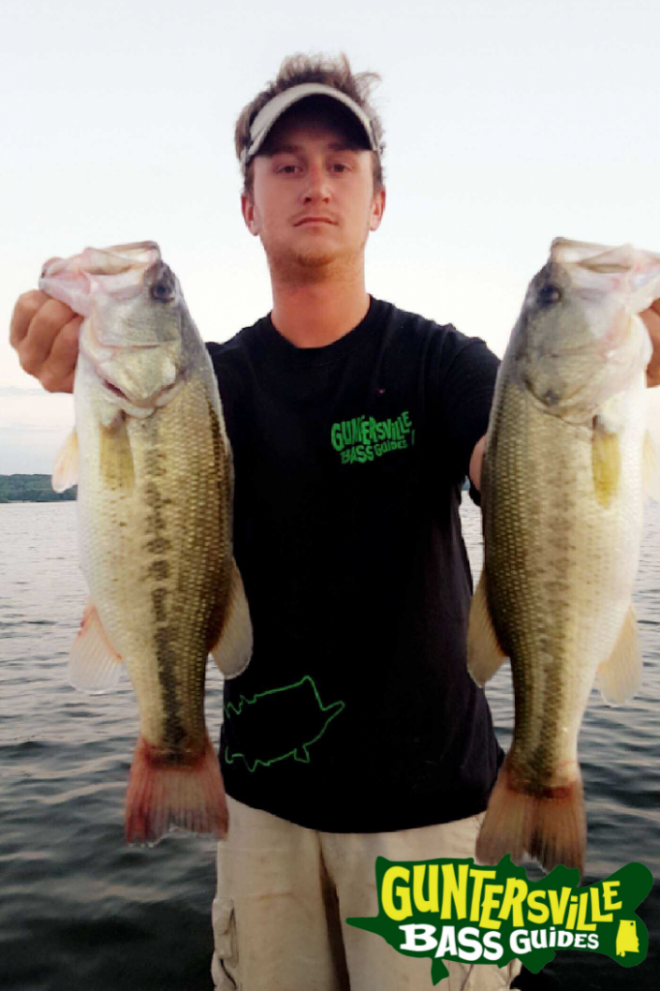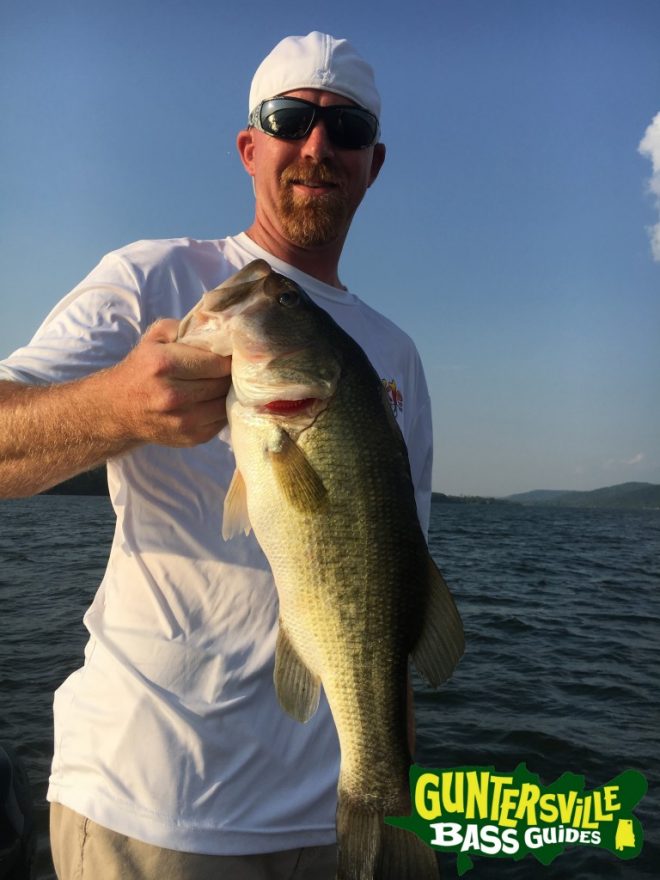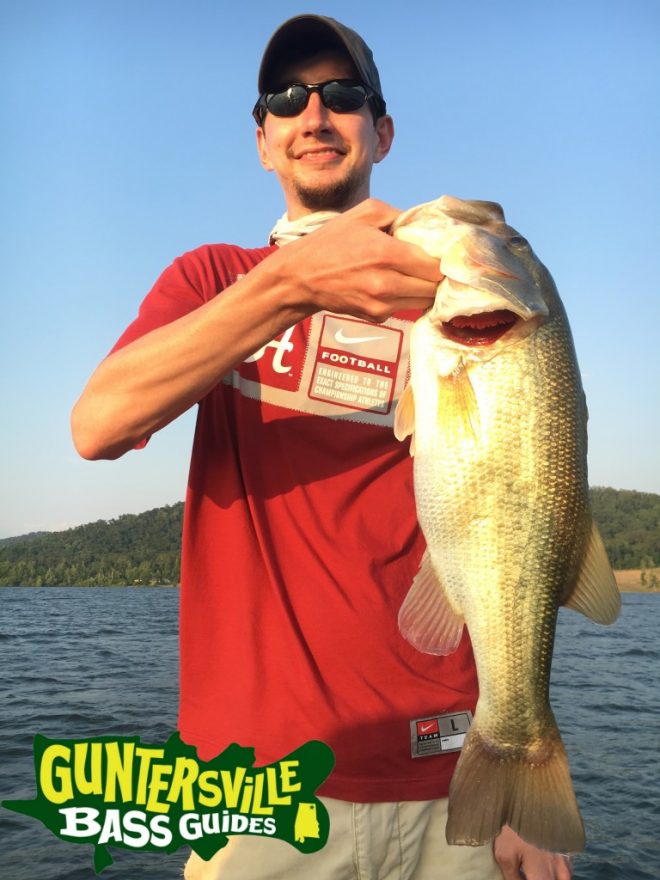 Up Shallow
NetBait B Bug or C Mac Texas rigged with a 3/8oz Picasso Tungsten Green Pumpkin, Plum or Watermelon Candy
4×4 Swim Jig 3/8oz with a NetBait Little Spanky as trailer Green Pumpkin or White
In the deeper water we have been looking in the 18-24 ft range around creek mouths
and up shallow just fishing areas that have deeper water close by.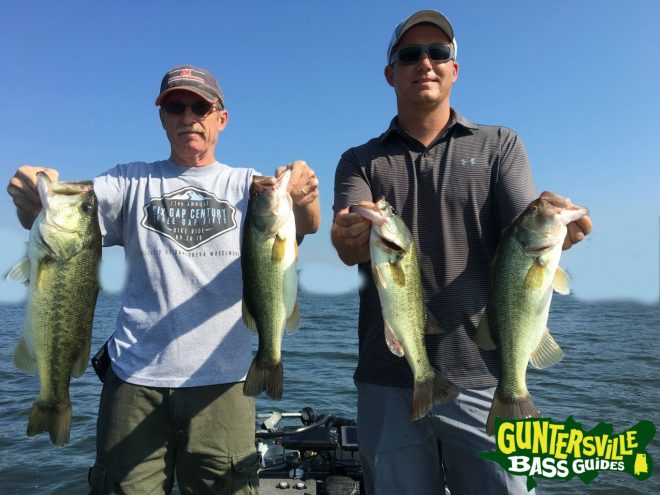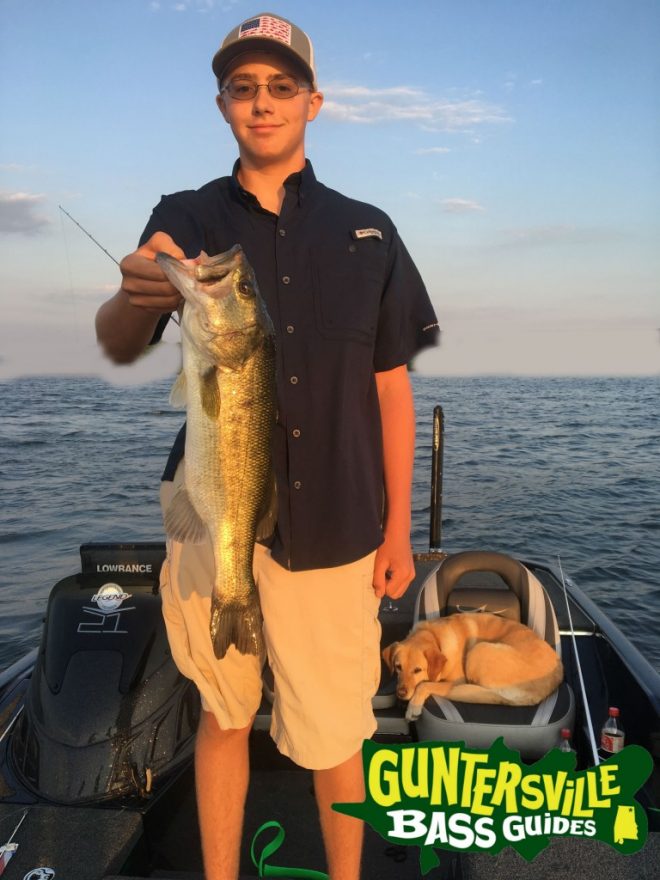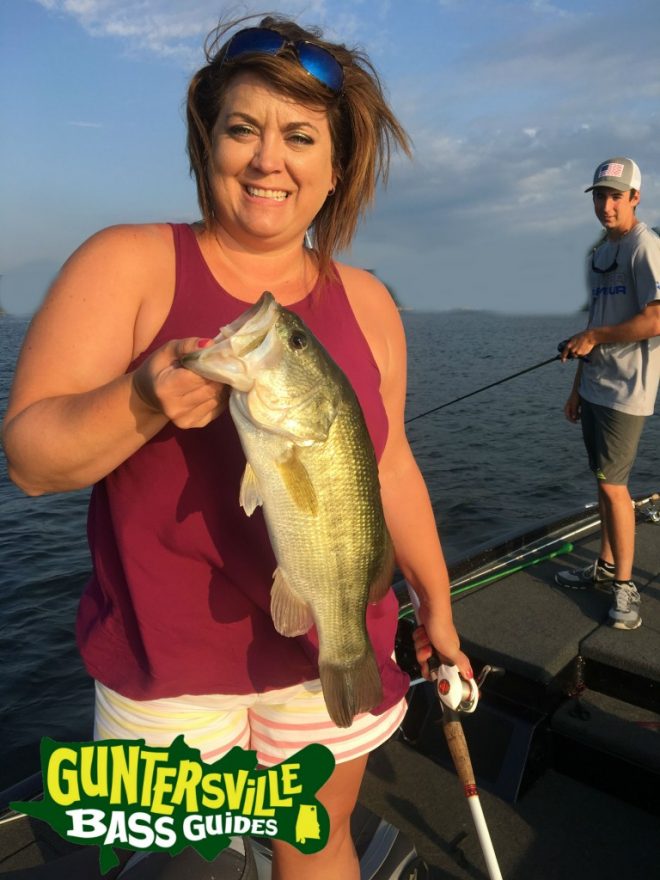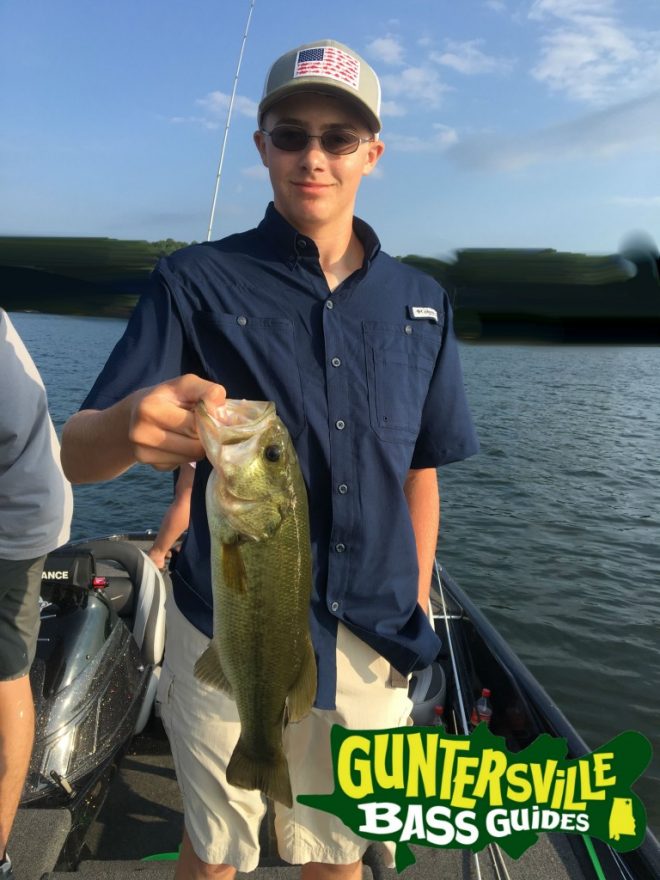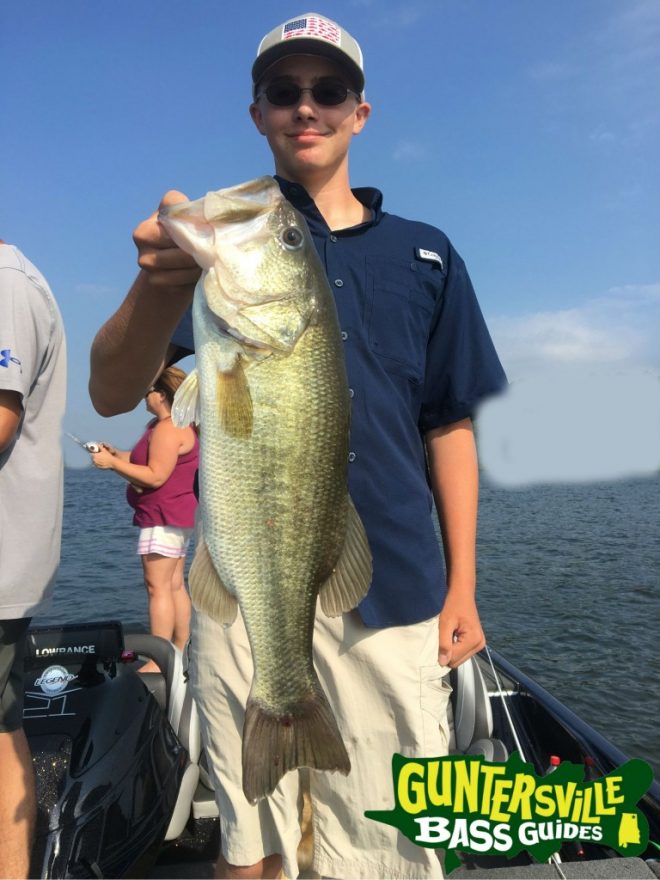 One last thing : the heat and sun are pretty intense this year so cover your arms up with UA Fish shirts and your face with a buff not only will they protect you from harmful uv rays you will keep cooler while doing it..
Capt. Jim
256-698-6593
www.guntersvillebassguides.com