Guntersville Bass Guides 256-698-6593
Have you been scratching your head lately? Do you catch them on one spot one day and not the next? Are Pre Spawn areas not producing? Our Poor Little Fish…………… They just can not get comfy with all this crazy weather the water raises and a day or so later its so low they have had to move 30 maybe 60 yards from where they was hanging out, then they cant see with all the mud, could you imagine living life like that? And we are all like these stupid little fish should not be this hard to catch… Well think about all the changing conditions oh I forgot the water temp getting warm then cooling right back off and how would you feel if all this was happening to you… Right we would not be normal either. So here is what I have figured out (im sure it might change but who knows)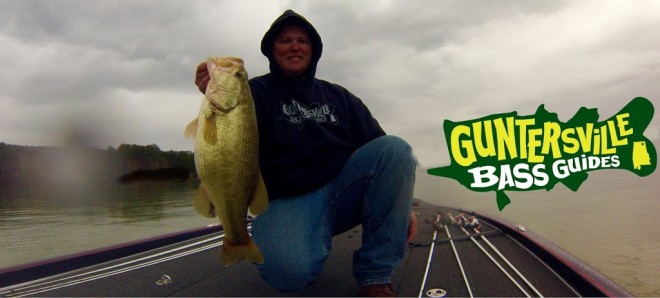 All the areas where I was catching 1 bass and I would up and leave to keep searching for more and bigger bass just happen to be a good spots with numbers and a decent one mixed in. So the struggle is not really that bad.. Work the area where you have gotten a bite you might be surprised as much as I was. So when I thought the fishing was as tough as it is in Ohio I was mistaken and I really needed to fish out of my comfort zone but HA there are more bass in general areas then we think.. They all seem to like to eat something a little different.
Dale Starting the day off right 5 mins of fishing..
Do you like to fish shallow? How about 4 foot there is your starting point. Do you like the grass? I do but not getting any in the grass just mud banks with wood either a stump or lay downs around it oh rocks too.. Creeks have been the best for us. Now what in the world can make a bass want a buffet of lures . I have no clue.. The best lure was a white 4×4 3/8oz swim jig with a Net Bait Little Spanky in white. Then a Picasso Shock Blade 3/8oz in Bling Shad and a Net Bait Little Spanky in white once again. There is more a white Spinner Bait double willow blade in white. Then a BD 1.5..
Thanks to Dale and John For Coming Fishing With Me. All The Way From Massachusetts
You can always come back to an area and catch them again.. They are hungry
I am ready for the weather to stabilize and to break out the shorts and sandals.
We fished water temps upwards of 58 degrees a few creeks have this water temp but our best creek it was 52 degrees so I think above 50 is good the fish dont know the creek down the lake 2 miles has warmer water so fish the back half of a creek or deep pocket and you will catch them.
Go Check out my website did a few changes recently. www.guntersvillebassguides.com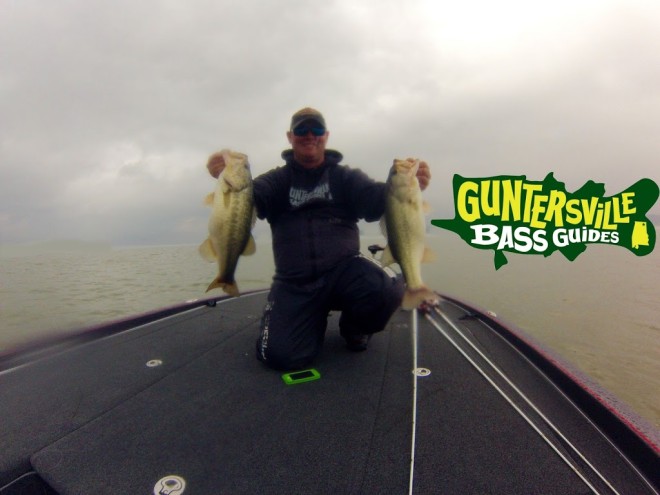 Till next time
Capt. Jim
www.guntersvillebassguides.com
256-698-6593