Not only is the fishing awesome the weather is not all that bad. Mornings have started out rather cool and around 11 the heat starts to cook ya but if you can stand the heat then you'll continue to catch them..  With only one slow day this past week I will have to say it was one of the best weeks for catching Lake Guntersville Bass and having a dang good time.
TVA opened the flood gates later in the week and everyone knows what that does to the bass.. yup the big ones show up, Just ask Sal Pinto he hooked a big ol bass that ended up jumping feet from the boat to show us just how big she really was.. I don't want to be that guy but it was a double digit..  ( I mean I have seen my share of them this year ) .. I apologize now for the lack of picture taking this week, when we are laughing and saying its just a 3.5 or 4 and toss it back without snapping a pic is my fault . I guess we was wanting pics with them fat girls. And taking pics of 40+ Bass would take up some time. And thats before lunch.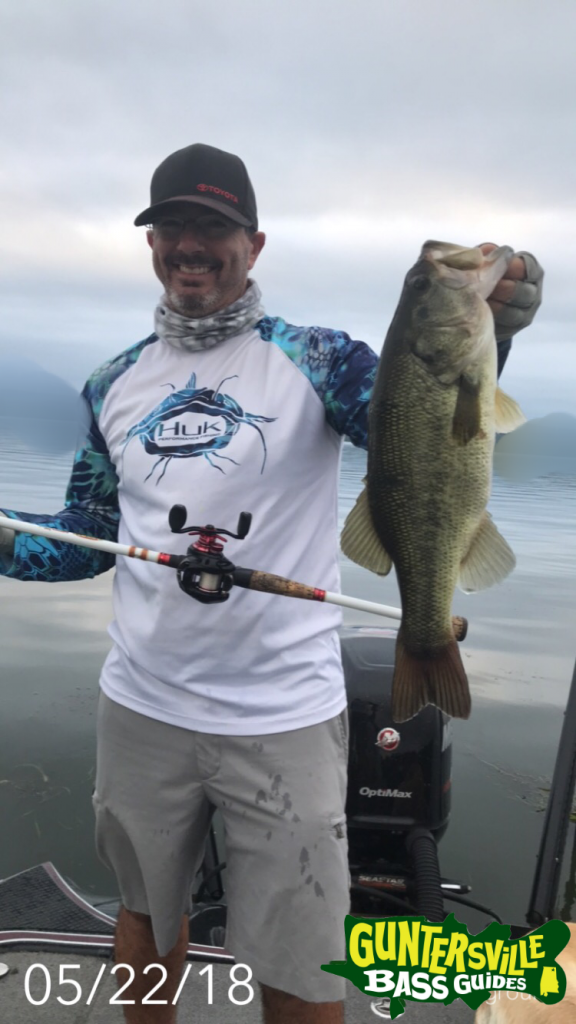 With Alberto moving in to the area and bringing the rain we should benefit from the extra water movement through the dams and should keep the bass set up to be caught..  and keep the water temps down,.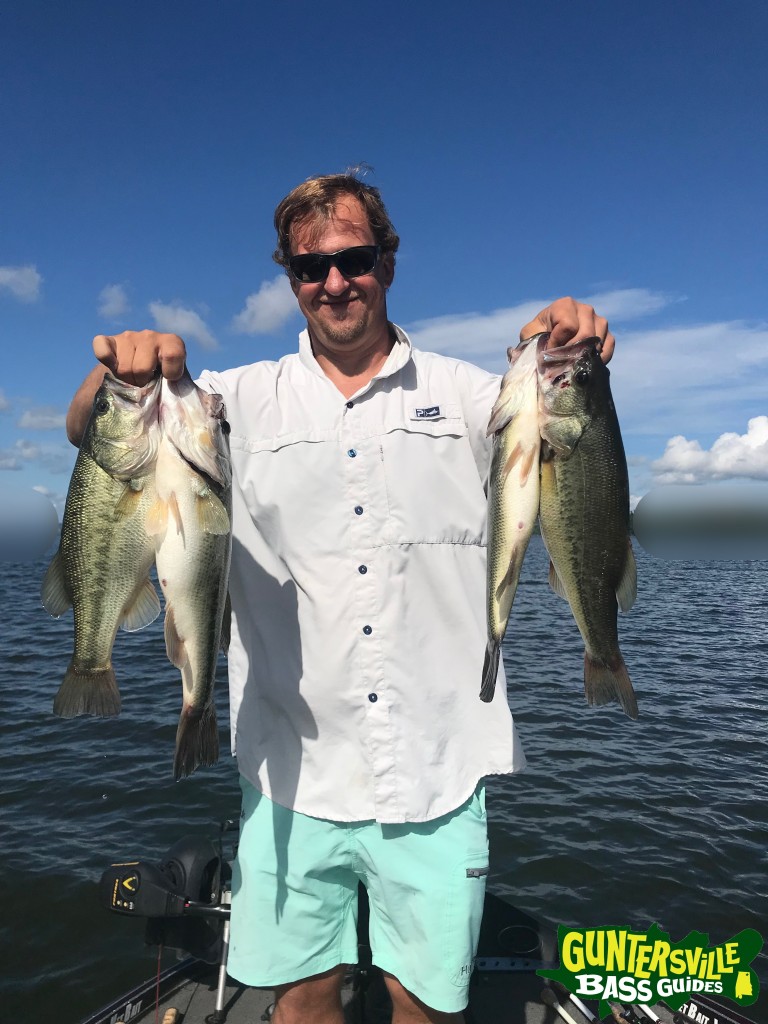 Monday was one of them days Eric and I had set out to put the hurt on them .. something we haven't gotten to do in a while besides during tournaments , before we got blown off the lake we was working on a huge bag of Guntersville Hawgs…
Speaking of tournaments we fished the 4th annual FoodLand Tournament Hosted by Chris Lane, we flat out had one of those days where we just caught them every place we pulled up .. minus one because of all the floating grass …. we weighed in 15.88 lbs with 3 bass and it got us 12th place and that has been our worst finish this year and in reality it wasn't a bad finish 12th out of 200 boats.. 3 fish tournaments are pretty much a big fish deal it takes the skill almost out of it and makes it luck.. lucky enough to get a big bite instead of 5 quality bites …  We had well over 25 pounds and would of been nice to put them on the scales  oh well …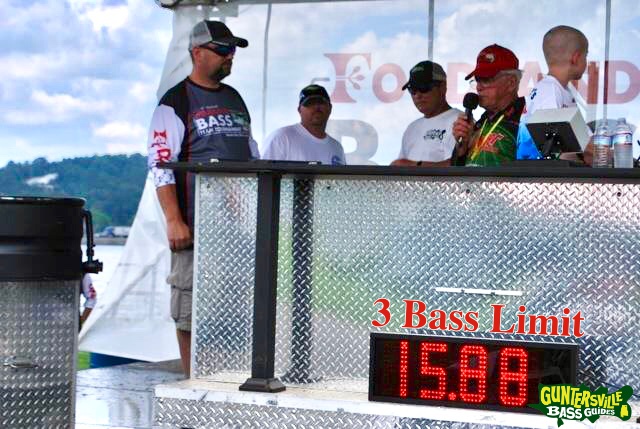 Still waiting on pics of our bass to pop up online so we can get them…
We've been staying relatively deep using 4×4 Bass Jigs and NetBait Plastic's , all the fish we are catching have been located using My Lowrance HDS units either i've scanned before the trip and marked them or scanned while on the trip with customers, when your structure scan is dialed in you can really find the ones that have been winning in HIDE N SEEK… not going to give away any details but when we pull up to a ledge we don't have any company..
Mike and Tommy joined me for two days this past week and remember when I said we had one slow day well it was one of their days, we had a mid morning flurry if we could of landed any of the bass it would of made the day that much better .. Tommy will tell you he had a big one on that just pulled off. These bass seemed to have a really bad temper they hit the bait so hard they jolted you then they just pulled and pulled then jump a few times .. Kinda like kamikaze bass … the their other days was full of catching … Oh and gave each other such a hard time it was like having a comedy show in between catches.. Back to the slow day no matter how slow the fishing was these two made a valid point .. Lake Guntersville is such a beautiful place and the weather was perfect. Check out the sunrise with a little fog.
Heres some pics
This is an old bass .. Bug Eyed and weathered .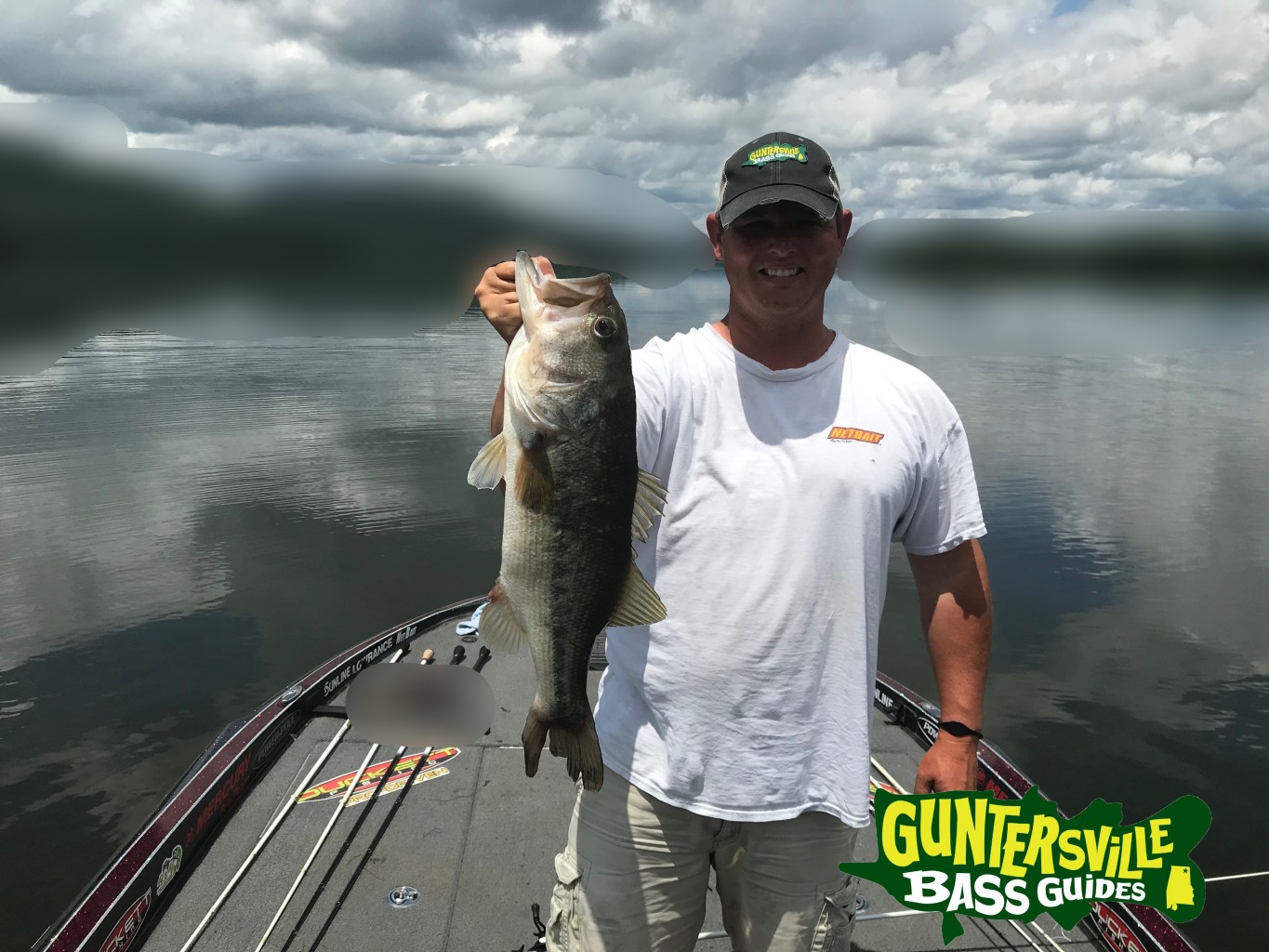 Here are some from Monday
Have some new hats available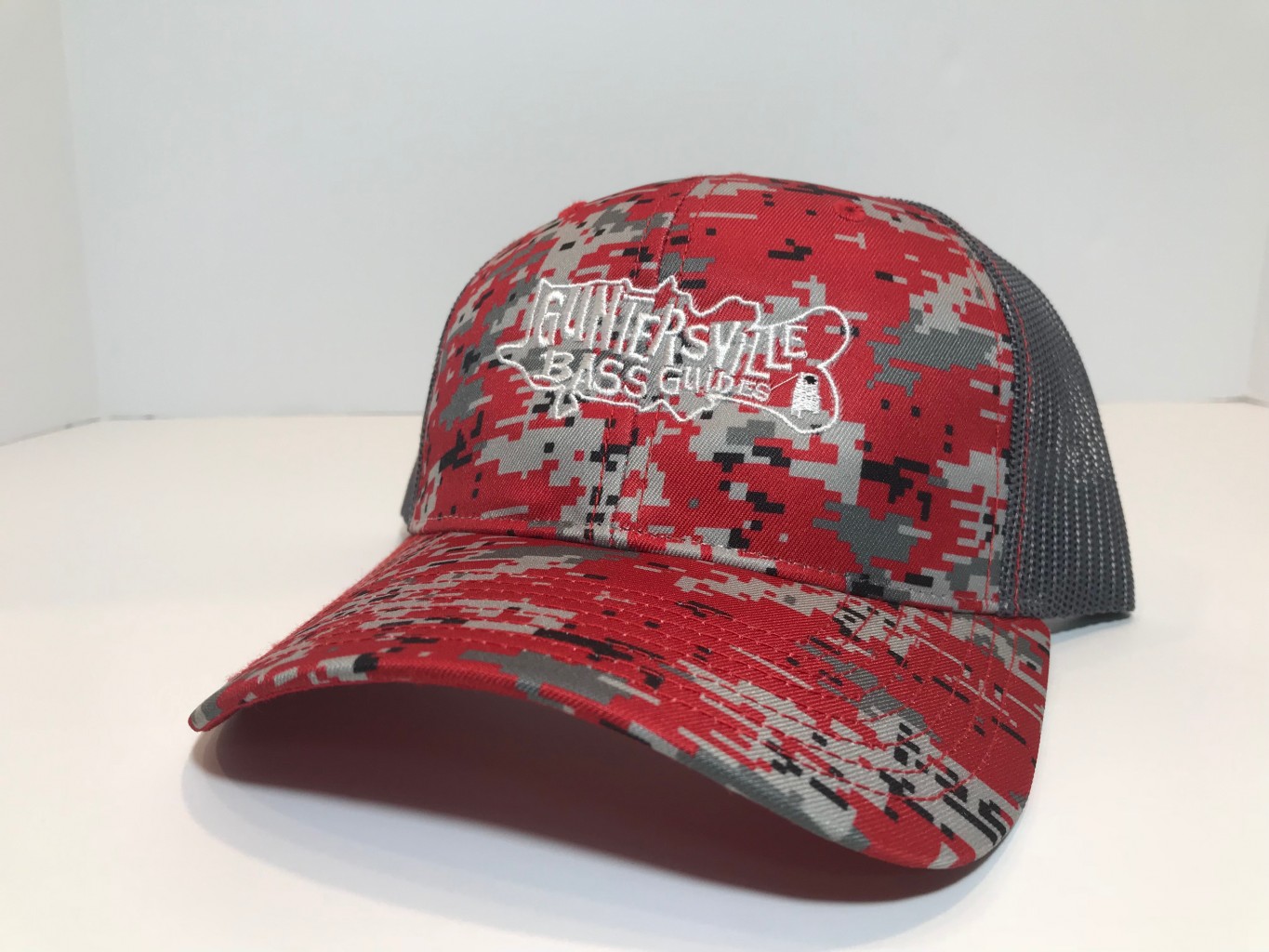 Water Temp 79-80 in the morning then around 83 at end of day
Most of the lake is pretty clear with a few areas with a stain to it.
Capt. Jim
256-698-6593