The weather is still controlling the bite here on GVILLE. Cold rainy days to bright blue bird days and mix in water levels coming up then back down…….
Water Temps 47-50 degrees
Grass I get asked a lot about the grass, what is the grass like. It seems to be growing in some parts of the lake and dying in other parts and after talking to the Bassmaster Classic Champ Chris Lane about fishing at the Huntsville Boat Show and he thinks if that water temps stay below 50 it will start to die off pretty fast now on the other hand if it stays warmer we will see beautiful healthy Lake and Grass.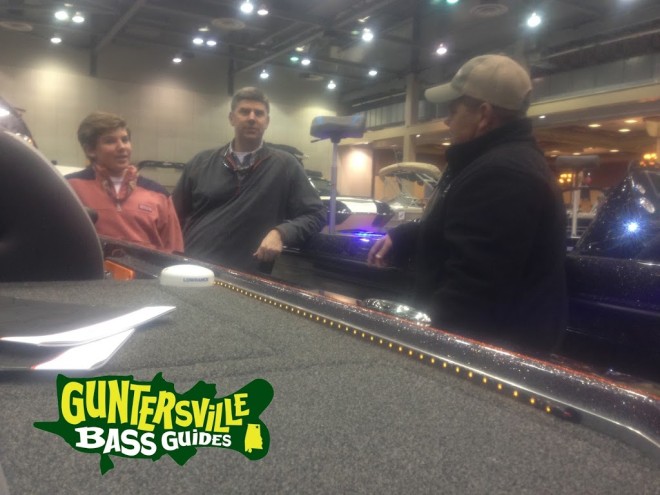 Chris Lane talking fishing with Bennett and his father
Jumped in the tournament out of Spring Creek on Saturday with a pretty big turn out for a Jan. Day I think 30 was the count. We had 8 bites and landed 7 and yes the one that got a way would of helped the final weight not enough for the win… We had 19-06 lbs 2nd had 19-38 lbs and 1st was 25-68 lbs and it was a grind for us no real pattern or area it was one here and one there using lipless crank baits and squarebills around grass and wood. Never sat in place and just caught them catch in go was what we did all day and I'll tell ya this it wore me out guess you can say I'm not in shape for tournaments ..
We did try several different colors and it did not seem to matter on color or style of lipless or squarebill it was just getting the bait in ones face.
Couple of little guys on a rainy day.
March is booking up and February getting some bookings NOW if this weather starts warming up soon then Feb will be a month you do not want to miss!!
To Book a trip call, email, or text
Capt. Jim
www.guntersvillebassguides.com
256-698-6593
Email