I don't have a lot of pics to share with you guys since I had to stay off the water last week Mon-Thur so with one day to practice we did not catch a lot of fish due to the way the lake is acting with the fishing pressure so I'd figure I would share with you some short stories from Saturday March 26th.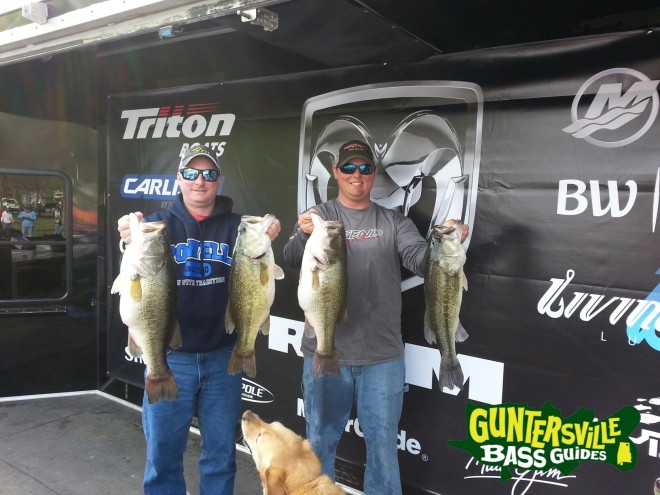 We focused on grass in 6-8 feet of water and on the 1st cast in the morning went like this:
made the cast stepped on the trolling motor and it did'nt work and I noticed that the speed knob was on zero after adjusting it I picked up my rod and it was heavy so I did what anyone would do I Set The Hook and the bass came up and tried to jump and just wallered and she went 7.20 lbs. After a couple of hours we had small limit and had to make a decision, a 15 min boat ride and we was fishing again without any luck.. so from 9 till 12:30 we have not had a sniff we just kept moving and fishing until Steve got a bite and this fish did the same as mine did just to fat to jump and it was a 8.15 lbs and that culled a 3 lb bass now the pressure started. we had to leave to head back to the ramp around 3. We knew we needed a 5+ pounder to have a chance at doing really well in this tournament, it was not till around 2:45 that Steve hooked up with one right at the boat and it was well over 5 lbs after a few high fives we knew if we could get one more big one we would look pretty good so it was a hard last 10 mins of fishing with out another bite. So as we are heading in we figured we had 27-28 lbs.
The moment when it got real:
While bagging up our fish we realized there was not enough room in the bag with enough water and the bass , a buddy on the dock suggested we use 2 bags as he went to get us another one, so yes we copied Rick Clunn and used two bags to carry our bass to the scales, When we dumped the fish in to the bump tank they grew a little more from the last time I seen them 5 mins ago well the time came to set them on the scales to see what the Big G Blessed us with…………… 31.15 lbs wow talk about a true surprise.
We was in the next to last flight so we still had to wait it out for awhile and when it was over I could take a deep breath.
This was the 1st time winning a new boat for me and Steve and its pretty cool little boat but its for sale so you can contact me if your interested in buying it…
Triton 17TX with a 4 stroke Mercury 60hp
Motor Guide Trolling motor
Micro Power Pole
and a few other items
$18,500/00
On a side note the top 3 teams all are part of Fredricks Outdoor and all have Legend Boats
1

James Leary-Steve Hatfield

5/5

31.15

2

Cameron Gautney-Billy Mitchell

5/5

28.87

3

Grant Hopson-Wes Ward

5/5

22.51
Capt. Jim
256-698-6593