Guntersville Bass Guides 256-698-6593
Has Guntersville made life tuff on you in the last week? Your not alone and it happens every year. Yes the fish start acting different to us, but they are doing exactly what they are suppose to be doing and its up to us to figure them out for that day or that time of day, yes that time of day they are on little feeding frenzy's right now (at least that is what I am seeing) you just have to recognize when its happening and capitalize on it, what I am seeing during these times is shad rippling the surface or being chased to where they come torpedoing out of the water, its not lasting long but if you can get a
super twitch
casted out to the area and let it fall on slack line if you don't get any strikes then work it in. I have not been spending a lot of time on these fish a few cast then I'm back to covering water with a ribbit style bait and top water frog and flipping a
Heavy Hitter
when I see the right stuff.
Took a couple of fellas out this week to try to get some bites and it happened to be the one of my better days in a couple of weeks with big fish biting for us we lost several of them ( no idea why we didn't get them in the boat but they only count when we land them) so pictured are the ones that didn't get away and you can see 2 are some real
Lake Guntersville Donkeys
not saying the ones we didn't get in the boat was this size but they sure did resemble them.
Bass Like Under Armour People
Water Temp is falling 79 degrees and will continue to drop as these cooler nights become more of the NORM.
November is getting filled up as of today and October has a couple of days open give me a call to get your day on the water booked with me.. 256-698-6593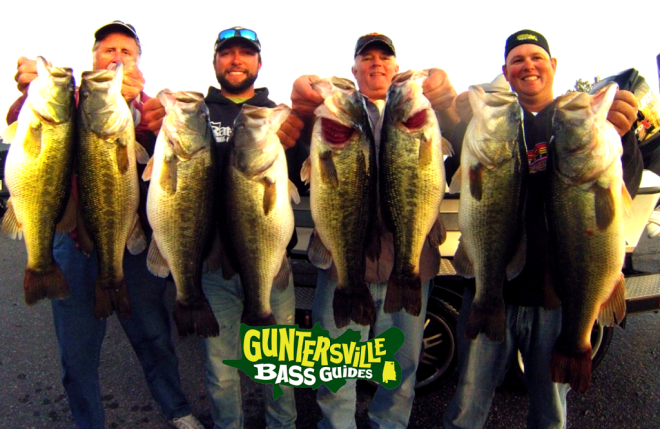 Late October and November fishing is off the charts and Im looking to put my Clients on Bass of a Lifetime once again this year. Check out the
Resume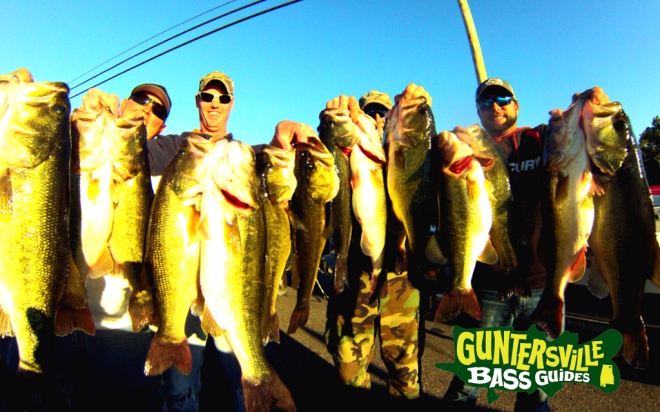 Do you want to fish with me in November? You need to Book NOW
I have received a shipment of newly designed Hoodies and Long Sleeved Shirts. SHOP NOW
Capt. Jim
www.guntersvillebassguides.com
256-698-6593